There are several career paths professionals can follow in the information systems industry, including those involving building and creating websites and software. These two types of platforms have distinct differences, although as demands increase for mobile access and efficiency, the lines between software and websites do blur a bit.
It's important for students pursuing an online Bachelor of Science in Information Systems to understand their career options. Two possibilities include working as a web developer or a software developer. But what is the distinction between these potential careers, and what are the duties involved in each position? Let's take a closer look at the work of software developers and web developers, and how they differ.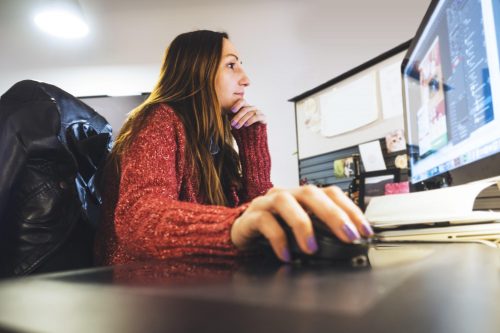 Web vs. software: Overarching differences
As Study.com pointed out, while both software and web developers work in the digital realm with computers, each position is specialized in the types of platforms developers create.
Software developers work to create software programs and specific applications. This includes things like desktop or mobile software and applications.
A web developer, on the other hand, works exclusively on building and creating websites and web applications accessible through internet browsers.
Because the platforms look and function differently from a user perspective, each type of developer learns specific skills to enable these creations.
Web developer: Duties and responsibilities
Web developers undertake responsibilities such as:
Working with clients to understand the needs and specifications of the website, including features, navigation, and landing pages.
Establishing and understanding the technical requirements that will support the functionality and usage of the website.
Gathering or creating the necessary written content, videos, graphics, and other elements that will fill out the website.
Completing the required back-end programming to support the content and enable user access and functionality. This includes writing code in different programming languages, including HTML, XML, or more depending on client needs.
Testing the website to ensure everything displays and operates correctly from a user standpoint.
Designing or integrating security elements to maintain protection of website visitors, particularly for e-commerce sites that include shopping cart and point-of-sales functionality.
Maintaining and updating the website as necessary to keep up with user demands and client improvements.
As the U.S. Bureau of Labor Statistics explained, web developers are responsible for the look and feel of the website, its functionality and operation, the technical aspects that support it, its performance and capacity, as well as other back-end elements, including the level of traffic and speed the site can support.
There are also more specialized positions in the web development industry, including back-end developers who focus solely on the technical, supportive elements of the website. Front-end developers, on the other hand, are concerned with the look of the website, its overall layout, and included content.
Software developers: Duties and responsibilities
Whereas web developers work only with websites, software developers focus on software programs and applications, including the initial creation of software, improving existing software, and adding functions to programs or applications.
Some of the responsibilities involved in a software developer's role include:
Discussing and understanding the needs and vision of the client, who will own, support, sell, and/or distribute the software program or application.
Analyzing existing software or applications and pinpointing the potential issues or areas in need of improvement.
Creating a plan of action that outlines the building, coding, or improvement of a new or existing software program.
Supporting the plan with the necessary models or design diagrams for the programming of the software or application.
Spearheading and supervising the creation of a program or application.
Recommending needed upgrades or improvements for existing software.
Documenting the different elements of the software or application for future reference.
Testing the software or application to ensure it works and supports user performance.
Collaborating with other computer specialists to create or improve software or application platforms.
Overall, software developers are in charge of all elements of a program or application, including its core functionality, user interface and experience, the necessary security protection required, and aspects to support performance. This involves mapping, designing, writing and coding, testing, and more. Furthermore, as the BLS pointed out, this process could take time to ensure that the software meets clients' expectations.
"If the program does not work as expected or if testers find it too difficult to use, software developers may go back to the design process to fix the problems or improve the program," BLS stated. "After the program is released to the customer, a developer may perform upgrades and maintenance."
Career outlook for software and web developers
According to BLS data, there are considerable opportunities available for both software and web developers.
Web developer jobs are projected to grow much faster than average, at 15 percent from 2016 to 2026. Overall, more than 24,000 jobs will be available for web developers over this time period. Those working in this capacity can expect to earn $67,990 per year, depending upon their working environment, according to BLS 2017 median pay data.
Opportunities for software developers are also growing quickly, with 24 percent growth expected from 2016 to 2026. Software developers can expect to earn as much as $103,560 annually, according to 2017 median pay rates.
To learn more about becoming a web developer or software developer and the required education, connect with one of our UAB Collat School of Business enrollment advisors today.
Recommended Readings:
Career opportunities to consider with a BS IS
General overview: Bachelor of Science in Information Systems
Sources:
UAB Online Bachelor of Science in Information Systems
Study.com – Difference between web developer and software engineer
Bureau of Labor Statistics – Web developer